"Astro Gypsy" (Vinyl)
$29.00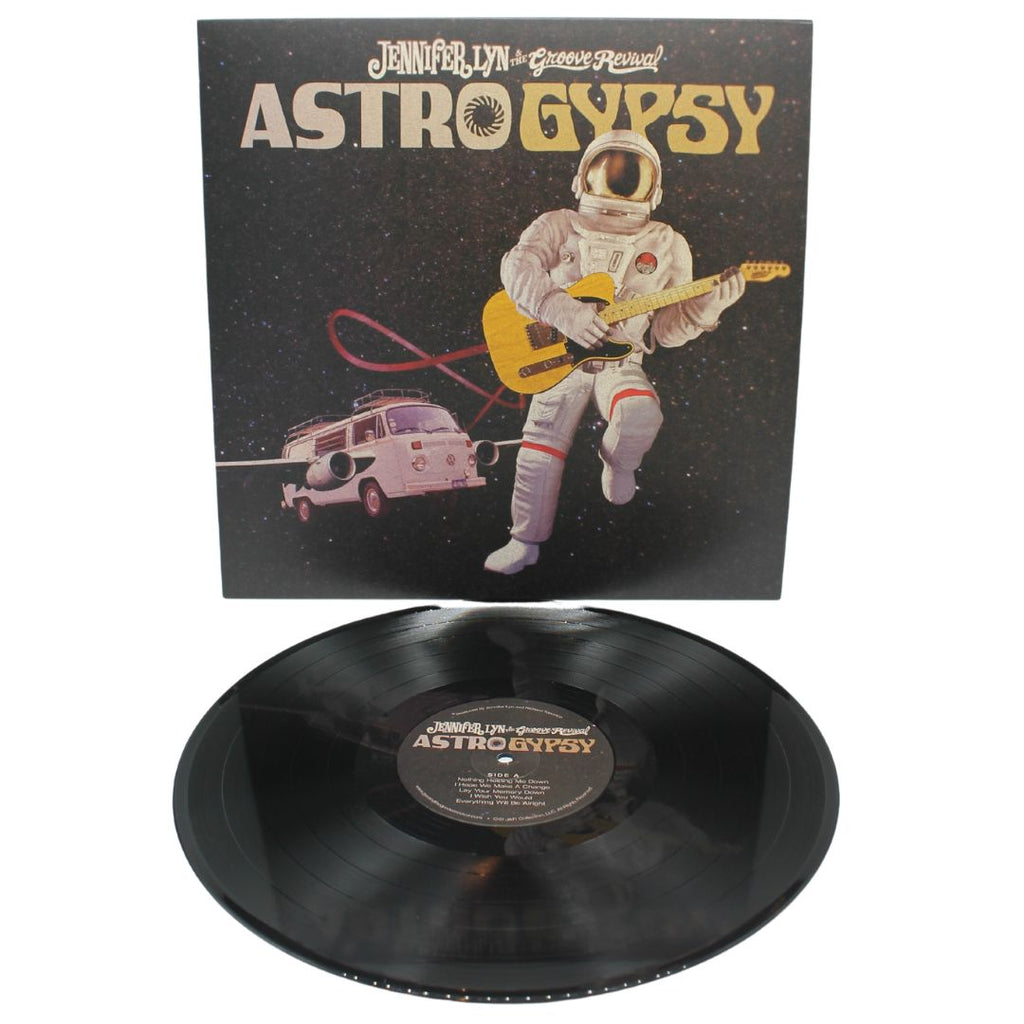 Unleash Your Inner Rebel and Experience the Raw Power of Blues Rock with our first vinyl release!
Included in this package:
"Astro Gypsy" vinyl

*** SIDE A: 5 studio-recorded songs taken from the Independent Blues Music Awards Best Blues Rock Album nominee "Nothing Holding Me Down"

*** SIDE B: 5 studio-recorded songs taken from Roots Music Report #2 charting Blues Rock album "Gypsy Soul"
 Track Listing:

Nothing Holding Me Down

I Hope We Make A Change

Lay Your Memory Down

I Wish You Would
Everything Will Be Alright
Gypsy Soul
Low Down Dirty Shame
Going Round in Circles
Give Me All of Your Lovin'
You Can Take It All
About the Vinyl:
It's no accident that we're seeing a global resurgence in vinyl music. Vinyl offers a unique, warm, and authentic sound that many audiophiles prefer over digital formats. Its analog nature creates a full-bodied sound with depth and richness that digital formats struggle to replicate.
This Vinyl record can not only be collected and displayed, but the tactile experience of handling vinyl, from placing the needle to admiring the artwork, fosters a more intimate connection with the music.
Travel back in time and enjoy the nostalgia of hearing music on vinyl. Indulge in the sonic magic of hearing these 10 Blues Rock songs come to life as soon as the needle hits the album.
__________
***Shipping times will differ depending on date ordered, country of residence, and customs.  
Due to COVID-19, product fulfillment and delivery may take longer than normal. We apologize for any delays. When your order has been shipped, you will receive an email with your tracking number. 
*Orders with multiple items may arrive separately. 
Please don't hesitate to contact us regarding your order: customerservice@shopjenniferlynmusic.com
"Astro Gypsy" (Vinyl)

Description

Unleash Your Inner Rebel and Experience the Raw Power of Blues Rock with our first vinyl release!

Included in this package:

"Astro Gypsy" vinyl

*** SIDE A: 5 studio-recorded songs taken from the Independent Blues Music Awards Best Blues Rock Album nominee "Nothing Holding Me Down"

*** SIDE B: 5 studio-recorded songs taken from Roots Music Report #2 charting Blues Rock album "Gypsy Soul"

 Track Listing:


Nothing Holding Me Down

I Hope We Make A Change

Lay Your Memory Down

I Wish You Would
Everything Will Be Alright
Gypsy Soul
Low Down Dirty Shame
Going Round in Circles
Give Me All of Your Lovin'
You Can Take It All

About the Vinyl:

It's no accident that we're seeing a global resurgence in vinyl music. Vinyl offers a unique, warm, and authentic sound that many audiophiles prefer over digital formats. Its analog nature creates a full-bodied sound with depth and richness that digital formats struggle to replicate.

This Vinyl record can not only be collected and displayed, but the tactile experience of handling vinyl, from placing the needle to admiring the artwork, fosters a more intimate connection with the music.

Travel back in time and enjoy the nostalgia of hearing music on vinyl. Indulge in the sonic magic of hearing these 10 Blues Rock songs come to life as soon as the needle hits the album.

__________

***Shipping times will differ depending on date ordered, country of residence, and customs.  

Due to COVID-19, product fulfillment and delivery may take longer than normal. We apologize for any delays. When your order has been shipped, you will receive an email with your tracking number. 

*Orders with multiple items may arrive separately. 

Please don't hesitate to contact us regarding your order: customerservice@shopjenniferlynmusic.com